The women of the village used a special kind of herb, called Mountain Tare, in their food, which was really great. They picked it themselves from the surrounding mountains, and it gave the food a pleasant taste.
I wander around the village and the girls showed me their school. A small and simple class was all they had as a school. There were so many drawings all around the class, which proved their interest and talents in art.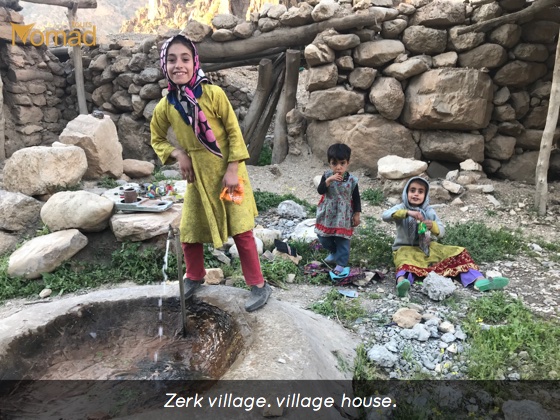 Finally, when one of the local guys brought us our car, we said our goodbye and left the village. I wished I could stay more in the village. Everything was perfect and I'm sure I'll miss them soon. Our next destination was Khoye village, which was a more developed village in comparison with Zerk. We stayed the night with Mr. Abdullahi's family, and we had some friendly talks about their lifestyle and routines. The same as all villagers' houses, they also had guns and a dried goat on the wall, the goat the father had hunted while he was a young man. They had a nice 'hoz', and a beautiful garden in their yard. The next morning when we wanted to leave them, they gave us dough and local butter (they called it oil).

Sar Agha Seyed village
What is the next village? Sar-aga-Seyed! We stayed there for some hours. The first thing that attracted my attention was the wonderful view of the village which was totally different from what we'd seen so far. The village was a stepped village and it was as if the roof of one house is the yard of the other. The women of this village also picked the same 'mountain Tare', dried it and sold to the tourists. We had our lunch with Mr.Isfandyar, who served us with a delicious soup made by mountain herbs, apricot, mushroom.

Here again, we could see the same design in rooms decorations They also had electricity, so there was a small TV on a ledge, in a corner of the room.

From the room where we were having our delicious lunch, we could see a wonderful view of Zardeh mountains which was so impressive. The village was also famous for its salt mines. They were somehow on the outskirts of the village. Back then, when having salt was rare and difficult, these mines were of great use. Though, villagers still use them.

Koohrang Spring was the last breathtaking place we went. As we were moving ahead on our way towards the spring, we had no idea what we are going to visit. The fact that we could have no image of it … not until we got so close to it… was so amazing. Suddenly, the most magnificent spring came to view. It was really breathtaking…an enormous amount of water was falling down and a beautiful scenery was lying before us. Too lovely for words. It was so great that we stayed there for an hour just to take the scenery.

A trip with the Iranian Nomads is a trip like no other, don't miss it!
Being deeply in touch with nomadic families, experiencing their genuine and intact simple lifestyle, doing their routine activities with them, such as shepherding, baking bread, milking sheep and goats, hearing the nice sound of goat and sheep bells all through the day are just some of the fantastic experiences I've learned in this wonderful trip.